About us
The ALBATROSS was established in 1997 by Gallinoro family.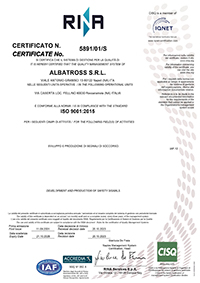 The Gallinoro have always been very keen on sea and they have transferred their passion to the nautical sector.

A scrupulous attention to details in every aspect of the production process and a skilled (qualified) distribution lead to a steady growth of the sales.

Nowadays ALBATROSS is one of the market leaders in Europe in the nautical signs sector.

The range of products has gradually increased and now ALBATROSS produces all kinds of signs demanded by the market in this sector.

The corporate culture gives ALBATROSS a great strength, typical of a solid structure (organization) where every component plays an essential role in the pursuit of the corporate goals and, as such, it is regarded and valued.

In 2001 ALBATROSS has obtained the ISO 9001 certificate as incentive to the continous development of its service and with the objective to better clients satisfaction.

The corporate strategy has been and will always be passion, research and shipping tradition... Take the survey
Mission
Being an essential point of reference for sailing in Italy and abroad, with a steady care for the quality increase and for the client's satisfaction.
That's why ALBATROSS is not only a producer and a supplier - it is your PARTNER!

Since the beginning the company follows a planning philosophy clear and precise entrusting research and creation to a narrow in house skilled team.
ALBATROSS has always paid full attention to the continous development of new products to follow the unending evolution of technology.
Tecnologia
The steady application of new technologies asserts the high reputation of our products. The R&S activity represents the milestone of our activity. We constantly invest in our company to better and optimize both products and production processes.
We carry out serious checks of row materials both in a first documentary stage inspecting the technical and the security specifications and successively through tests, before to introduce then the into production process.

The ISO 9001 standards are strictly applied to pledge a high quality level.
We coorporate successfully with the main approval organizations and the certificates obtained confirm our competence.