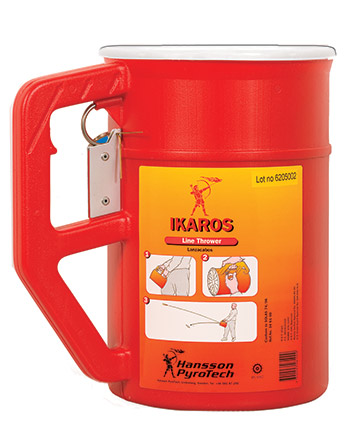 DESCRIPTION
The signal is approved and meets the latest
SOLAS 74/96
MED 96/98 EC
Directive 2012|32|EU
IMO Res. MSC. 81 (70) as amended.
APPLICATIONS
For use as pilot line for cables and ropes in rescue operations at sea. Use between ships, from shore to ship or ship to shore, or for rescuing personnel.
DESIGN
A robust device consisting of a waterproof plastic container with integral handle and trigger mechanism, with a solid fuel rocket and 300 mt of line.
USAGE INSTRUCTIONS
- Remove safety pin.
- Keep arrows on the line thrower paralle to the deck/round.
- Pull trigger