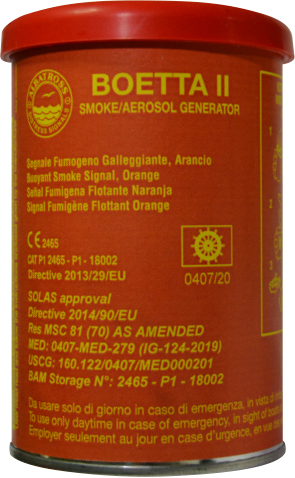 DESCRIPTION
The signal is approved in conformity to the last updating of the normative:
SOLAS 74/96
MED 96/98 EC
Directive 2012/32/EU
IMO Res. MSC. 81 (70) as amended.
APPLICATIONS
For daylight distress signalling purposes on ship, lifeboats, life rafts and for pleasure craft
DESIGN
The case is made of corrosion-resistant steel


USAGE INSTRUCTIONS
Remove the red lid
Pull the loop
Throw the signal overboard
TECHNICAL SHEET
Height: 120 mm
Diameter: 83,5 mm
Weight.: 480 gr.
Smoke duration time: > 3 min.